Deta Vimark Range
Background
Founded in 1958, Deta Electrical is a market-leading manufacturer and distributor of high-quality wiring and electrical accessories, with a reputation for quality, reliability and value for money.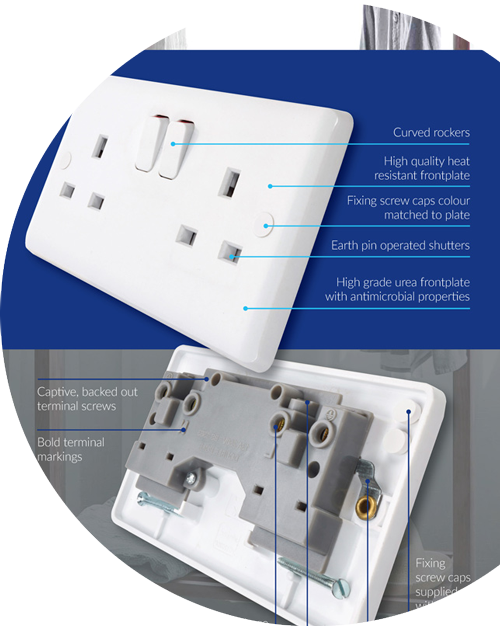 Deta is a leading supplier to the UK electrical wholesale market and has achieved significant growth in recent years, following the acquisition of several complementary brands and with the introduction of multiple new product ranges. With a substantial warehouse and distribution facility based centrally in Bedfordshire and an extensive stock holding to support, Deta prides itself on excellent service and support to its customers.
Product Range
The Deta Vimark range will be covering Switched/Unswitched Sockets, Plate Switches, Switched Spurs, a Cooker Control Unit, a Secondary Telephone Socket, a Co-Axial Socket and Blanking Plates. The features include a smooth, curved profile front plate and rocker design on all products and are designed with the installer in mind. The back of the accessories features bold terminal markings, making it easier to identify the terminals. Terminals on sockets are top-facing and have large lead-ins with captive and backed out screws to aid cable installation. To ensure safe installation, the earth bar on sockets is recessed to prevent accidental contact, and all plates incorporate soft edges to avoid damaging cable insulation. All accessories are supplied with colour coordinated fixing screw caps for a neat installation.
We will also be adding the following to the current SMJ trade-packed range to ensure range credibility. 1 & 2-Gang Dimmer Switches, Switched Lampholder, 2-Way Ceiling Switch, 1 & 2-Gang Pattress Boxes/Dry Lining Boxes and 20A/30A Junction Boxes. This will ensure a more structured range, with the more utilitarian trade range catering for the value end of the market, and the Vimark Curve, with its sleek design and additional features catering for the mid-market.
For more information on this range, see the full range here or find your local retailer here.
Published on 01/09/2021, Expires 30/06/2022